Larry Macon was born in December 31, 2020 in Dallas Texas. He started running marathons in 2000. He was the first person to finish more than 100 marathons in calendar year 2008, he won First Place in the Bear Lake Idaho Marathon in 2008.

He has run over 1,700 marathons in lifetime, marathon in all 50 States 20 times, marathon in all 50 states in a calendar year 8 times.

He set a Guinness World Record for the most marathons run in a year in 2008(105), 2010(106), 2011(113), 2012(157) and 2013 (239). He was Marathon Maniac of the Year 7 times, he is also one of the few people listed in Marathon Maniacs Hall of Fame.

"I run because I love the people I meet and the challenge of finishing."

I'm Yolanda "Walking Diva" Holder a 2x Guinness World Record breaker for "Most Marathons Run in a Calendar Year" (2010, 2012). I am the first African American & the first woman to ever do this twice. What's unique about me is that I am a Power Walker and I have power walked over 500 lifetime marathons/ultras.
As an Author, Motivational Speaker, wife and mother of two adult children. My mission is to promote good health, inspire, motivate, and encourage people of all ages to get out and get fit, while having fun.
My annual event Extreme Walk 4 Diabetes: 2014 Extreme Walk 4 Diabetes, Corona to Las Vegas. For more info please visit my website, www.yolandaholder.com or visit me on Facebook & Twitter

Keep walking & smiling!
Born in 1966 in Dover, England I started running in 2009 within a few months went from a 5k race to my first marathon. I met three members of the 100 Marathon Club and the seed was sown very early on indeed to do a lot of marathons.

By the end of 2010 I was doing a marathon a week on average and had the brainwave of seeing how many I could do in a year! 114 marathons later I found out!

The best part of the long distance running though is meeting all these likeminded souls, all of whom share the kindred thought of not wishing to be ordinary and to push themselves over and over again.
We run, for the pure joy of running. Enough said.

A man is a hero, not because he is braver than anyone else, but because he is brave for ten minutes longer. - Ralph W Emerson

Whenever the seasons change, the direction of the wind fluctuates like someone threw a switch. And runners can detect each notch in the seasonal shift in the feel of the wind against our skin, its smell and direction. In the midst of this flow, I'm aware of myself as one tiny piece in the gigantic mosaic of nature. I'm just a replaceable natural phenomenon, like the water in the river that flows under the bridge toward the sea. - Haruki Murakami

Pain is inevitable. Suffering is optional. - Anonymous
Steve Hughes is a former Arkansas Razorback track athlete, who completed the original course Hogeye Marathon in 1978 and the original course White Rock Marathon in 1979, then had to quit running for 25 years because of osteoarthritis.

As a result of medical advances, he began running marathons again in 2005. Marathons #99 and #100 of 2012 were completed in Parvaneh Moayedi's walking boot.

By the end of November, 2013, Steve will have completed over 333 marathons/ultras since his 60th birthday and in February, 2014, became a 4-times 50 States Marathon Club finisher
Larry Macon Finished 100 11/29/2008
Yolanda Holder Finished 100 11/28/2010
Traviss Willcox Finished 100 12/6/2020
Vincent Ma Finished 100 12/22/2012
Steve Hughes Finished 100 12/28/2012
Jim Simpson Finished 100 12/30/2011
Parvaneh Moayedi Finished 100 9/13/2013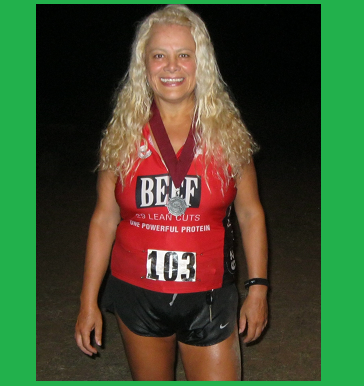 Haywood Crowder Finished 100 9/21/2013
Finished his first Marathon at Los Angeles CA in 2005 at age 62. Having several health challenges such as back problems, elevated levels of cholesterol and PSA. I thought the least expensive way to start improving my health would be to purchase a pair of tennis shoes, shorts, and a shirt. I almost quit twice during the Marathon, and told myself that if I finished I would NOT do it again. In June 2012, I completed my 100th Marathon which took a total of seven years. I never imagined that I would reach this level. I promised myself that it would not take this long to do the next 100 but only two year! Later I thought why wait? January 2013 I made a decision to increase my goal two months into radiation treatment for prostate cancer. Having two prostate surgeries within two years, this newly set goal was a challenge and daily struggle. I found myself running on weekends, I wanted my life to be an example that despite our struggles. "You CAN achieve!" My running ability reminds me how truly blessed I really am and that it is by God's grace that I am able to continue with more Marathons by the end of the year.
Jim Simpson was born in Douglasville, GA on December 15, 1941. He joined the Navy the day after age 17 (a high school dropout) and served his 4 years in Long Beach, CA, He retired at age 43 in 1985 and started a fitness program where he ran 3 miles, 3 days a week for about a year and then advancing to the 5K and 10K and finally to the Marathon distance.

Marathon number 1 was the Los Angeles Marathon March 6, 1988.
Marathon number 100 was the Los Angeles Marathon March 1, 1998.
Marathon number 1,000 was the Texas Marathon January 1, 2013.

His claim to fame is: he has stayed overnight at a Wal-Mart the night before a Marathon in all 50 States, and runs 100+ Marathons in the same pair of shoes.

He travels in his Ford F-150 with Camper to his Marathons and drives about 50K miles per year and stays at a Wal-Mart over 200 nights a year.

He runs because he is a competitor and likes a challenge. He says that anything he has ever done or accomplished is because of the simple term "I believe I can". His motto is "Work Hard and Save Your Money".

Joseph Reilly Finished 100 9/6/2020
The Legends 100 Club was formed to promote and salute the legends of marathon running. We believe that people who dedicate one year of their lives to complete 100 marathons should be honored in running history. The Legends 100 Club operates under the direction of the Board of Directors selected by Founder and President Parvaneh Moayedi and Silent Co-Founder Yolanda Holder. The selection of the Board of Directors is based on seniority in finishing 100 marathons in one calendar year. The Club is dedicated to the promotion of health and fitness and the members share a common goal of running 100 marathons in a calendar year
Joseph Reilly has run marathons for over 40 years. His favorite marathon is the New York City Marathon where at earlier years he would run 3 hour times. Now at age of 70 he runs in 5 hour range.

Joe has run 140 marathons in 365 days from October 14, 2020 to October 13, 2013. My goal was to hit 140 marathons in a year because that is double my age of 70 years. If I can run 140 marathons in a year as a 70 year old, I can't be all that decrepit.

My current goal is to translate the 140 marathons in 365 days to Calendar Year of 2013. Barring injury, I will definitely have 140 calendar year marathons by December 31, 2013. As of October 13, 2020 I have clocked 118 marathons and just 22 more to go.
Copyright © 2015-2017 I Ran Marathons All rights reserved.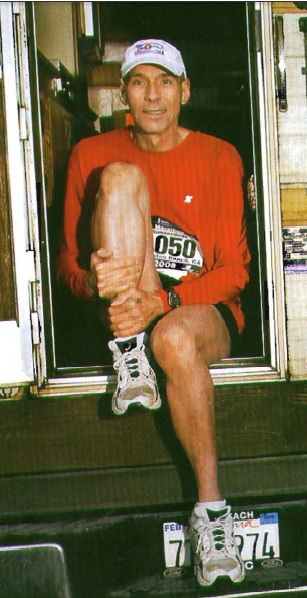 Parvaneh Moayedi was born in 1964 in Zanjan Iran. She is the Legends 100 Founder and President as well as the race director of I Ran Marathons. She has completed over 1,000 marathons and ultras in 17 years in all 50 states and 7 continents. A dual Guinness World Record Holder since 2013 for Most Marathons Run by a Woman in One Year 168 and Most Consecutive Marathons Run by a Female 17 races. Author of recently published book "Iran to America Running 1001 Marathons."

Parvaneh is the only Iranian woman to be accepted and complete the Badwater Ultramarathon in 2013 and 2014. Badwater is the world's toughest foot race crossing 135 miles non-stop from Death Valley to Mt. Whitney, CA with a 48 hour time limit in temperatures up to 130F. It is the most mentally and physically demanding and extreme running race offered anywhere on the planet.
"We can do anything in life if we set our mind to it."

Bettie Wailes Finished 100 12/29/2014
Bettie Wailes ran her first Marathon in Jacksonville, FL January 1993.

She completed all 50 States in May 2010, and ran her 100th career Marathon in March 2011. At the age of 70, she finished 102 Marathons for calendar year 2014.

Bettie is the oldest female to accomplish the century mark. She reached a total of 333 lifetime marathons in 2016.

You would not find a nicer, kinder spirited marathon runner. She usually runs with her partner and sweetheart Jim Simpson, both wearing their trademark red. She has published a book about what running means to her--- Running in the Back of the Pack.