Parvaneh Moayedi, born in Zanjan, Iran, is the founder and owner of race management company "I Ran Marathons". She is an aspiring author and a dual Guinness World Record Holder for Most Marathons run in a year as well as Most Consecutive Marathons run for a female. She has run marathons in every State multiple times as well as on all seven continents. She is the only female in the world to have run more than 1000 official life time marathons and ultra marathons. Parvaneh is a two time Badwater 135 Ultramarathon finisher having completed the race in 2013 and 2014. "We can do anything in life if we set our mind to it."
Iran to America Running 1001 Marathons
Buy Her Book and Help Parvaneh Race to 2000 Marathons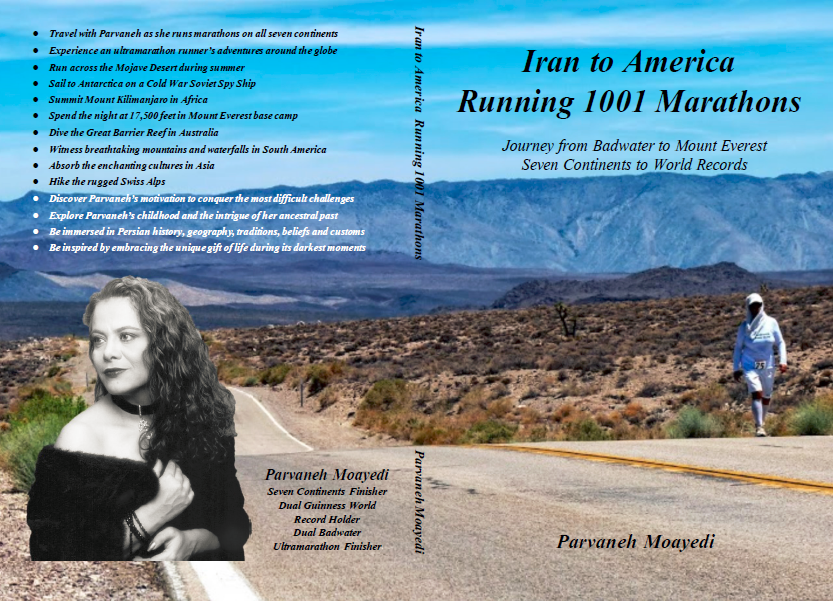 • Travel with Parvaneh as she runs marathons on all seven continents
• Experience an ultramarathon runner's adventures around the globe
• Run across the Mojave Desert during summer
• Sail to Antarctica on a Cold War Soviet Spy Ship
• Summit Mount Kilimanjaro in Africa
• Spend the night at 17,500 feet in Mount Everest base camp
• Dive the Great Barrier Reef in Australia
• Witness breathtaking mountains and waterfalls in South America
• Absorb the enchanting cultures in Asia
• Hike the rugged Swiss Alps
• Discover Parvaneh's motivation to conquer the most difficult challenges
• Explore Parvaneh's childhood and the intrigue of her ancestral past
• Be immersed in Persian history, geography, traditions, beliefs and customs
• Be inspired by embracing the unique gift of life during its darkest moments
This book is a reflection on my journey, experience, knowledge, perception, recognition and embracement of life. It is a collection of my memories, stories, history, geography, ancestors, culture, tradition, beliefs, customs, practices, rituals and morals. The following pages contain my observations and experiences of my life's journey around the world, from Iran to America, South America, Africa, Antarctica, Asia and Australia to Europe. I was blessed with the unique gift to embrace life through traveling, running marathons around the globe and encountering challenges with no fear. I will share the world with you through my eyes, thoughts, travels, stories of my marathons and adventures with flashbacks to my ancestral past.



Copyright © 2016 I Ran Marathons, LLC All rights reserved.

The Most Marathons Run in One Year (Female)
Most Marathons Run on Consecutive Days (Female)
Dual Guinness World Record Holder